back
product no. 1008134
NZ

$

433.04 excl. GST
NZ

$

498.00
TRIGGER SMART KIT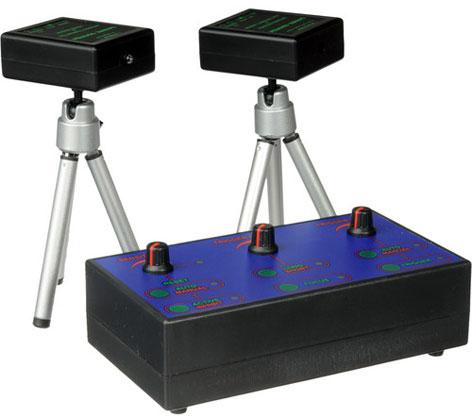 Product Highlights Three-way Camera Trigger System
Sound, Light, and Infrared Beam Sensors
Adjustable Sensitivity and Delay
Adjusts for Single or Continuous Firing
Compatible with Most Cameras
Multiple Configurations
Optional Tilt Sensor
The TriggerSmart Kit is a three-way triggering system for photo and video capture. TriggerSmart offers a simple way to trigger your camera by using sensors that detect sound, an increase in light intensity and the interruption of an infra-red beam. Each detection method has its own uses and its own control settings on the TriggerSmart Control Unit. For example, if photographing fireworks or lightning, use the Light Intensity Sensor, connect it to the Control Unit and connect the Control Unit to your camera using the included cables. If needed, adjust the light sensitivity of the sensor on the Control Unit and when the lightning strikes or fireworks go off, the sensor detects the increase in light and fires your camera to shoot.
With sound, the set-up is similar. Connect the sound sensor to the Control Unit and the Control Unit to the camera, adjust the sensitivity if you want the camera to fire only at very loud sounds and when that sound is detected, the TriggerSmart will trigger your camera to shoot. Single shots or continuous shooting are both possible. When using the system to detect movement with the Infra-red beam it is necessary to use both sensors, one to send the IR beam and one to receive it. With the receiving sensor connected to the control unit and the control unit to your camera, as soon as something moves through the IR beam, the camera fires. Because the IR Receiver is housed in the same unit as the Light Intensity Sensor and the IR Transmitter is housed in the same unit as the Sound Sensor, in order to use all three detection systems together, separate sensors must be purchased.
The TriggerSmart Kit comes with the UK15 Control Unit, IR Receiver/Light Sensor Unit, IR Transmitter/Sound Sensor Unit, two mini tripods to place the sensors, two control cables, one trigger cable and one 2§ baffle.
The Control Unit controls and adjusts sensitivities of the sensors, can introduce delays in camera triggering and can choose between single or continuous shooting.
The TriggerSmart Kit is an affordable device for amateur and professional photographers and is particularly suited to shooting wildlife and lightning and can be utilized for a multitude of creative, fun and security purposes. More so, additional sensors and accessories are available for the kit to increase operational scope and triggering capabilities.
UK15 TriggerSmart Control Unit The TriggerSmart Control Unit is the heart (and brains) of the TriggerSmart system. The sensors connect to the Control Unit as does the camera. With the various sensors plugged into the controller you are able to adjust the triggering sensitivity, impose a delay on the trigger if desired and set the number of camera exposures you want to shoot. For example, if you are shooting a bullet breaking a glass, you want the camera to fire on the sound of the gun's report, but not on other noises, so you set the sensitivity to not respond to lesser sounds. If you realize that the guns' report triggers the shutter too quickly to get your image, you establish a delay with a simple turn of a knob on the controller. If you just can't get the right image with a single shot, set the controller so your camera shoots continuously in order to get the perfect image of a bullet breaking the glass.
Light Intensity Sensor Detects increase in environmental light intensity and triggers camera according to sensitivity settings. Ideal for shooting lightning and fireworks.
Sound Sensor Detects noises and triggers the camera to fire upon registering that noise. Noise sensitivity can be adjusted by the Control Unit.
Infra-red Sensor The Infra-red sensor is actually a transmitter and a receiver (two units) and a beam is sent between the two. When that beam is interrupted, by a passing animal let's say, the camera is triggered to shoot.
Cables and Tripods Basic trigger and sensor cables are included in the kit as are two mini-tripods to hold the sensors for maximum detection capability.
Optional Accessories Multiple items are available separately from TriggerSmart to enhance your image capture. A tilt-switch sensor is an additional sensor that activates when the sensor is tilted. Cable adapters and extensions offer more and longer sensor and camera placement possibilities. A battery-powered Infra-red transmitter eliminates the need for cables, extending the Infra-red sensor's reach. Additional baffles and sensors can be purchased as can covers and stakes to keep your sensor dry and in place when used in the out of doors.
Power The Control Unit is battery powered (4xAA) but an optional AC Adapter can be purchased and utilized as well.
Compatibility The included cables are compatible with numerous cameras and special dedicated cables can be purchased to link almost every camera to the TriggerSmart system. The following cameras are compatible with the included trigger cable:
CANON
EOS 30, EOS 33, EOS 50E, EOS 300, EOS 300V, EOS 300D, EOS 350D, EOS 3000,
EOS 50, EOS 500, EOS 55, EOS 500N, EOS 300X, EOS Kiss, EOS New Kiss, EOS
Kiss 7, EOS Kiss III, EOS 7, EOS 7s , EOS 400D, EOS Digital Rebel, EOS Digital
Rebel X, EOS Digital Rebel XSi, EOS KISS X2, EOS 450D, EOS Digital Rebel XTi,
Kiss Digital, Kiss Digital N, ELAN 7N, ELAN II, ELAN DATE, ELAN 7, ELAN 7NE,
ELAN 7N, ELAN IIE, Rebel 2000, Rebel G, Rebel T2, Rebel Ti, Rebel X, Rebel XS,
EOS 1000D, EOS 500D, Rebel T1i,
EOS 550D, Rebel T2i, G10, G11, G12, 60D, 600D, Rebel T3i, Kiss X5, 1100D,
Rebel T3
PENTAX
K100D, K110D, K10D, *ist DS2, K200D, K20D K7, *ist D, *ist DS, *ist, *ist DL,
MZ-6, ZX-L, MZ-, *ist, DL2, K5
SAMSUNG
GX-1L, GX-1S, GX-10, GX-20, NX10, NX100, NX5
CONTAX
645, N, N1, NX, N Digital
Triggering Speed Selectable for 5 ms(1/200 sec) to 5 seconds
Delay Range Short Delay: 1 ms (1/1000 sec.) to 100 ms (1/10 sec.) - Long Delay: 1000ms (1/10 sec.) to 10 seconds
Triggering Modes: Manual, auto 1 shot, auto re-arm
Focus Manual Activation
Sensors Flash, infra-red beam, sound
IR Beam Range 7.9" - 6.6' (20 - 201 cm). 8§ or 2§ with focal baffle
Infra-Red Wavelength 850nm
Light Sensitivity Range: 1 - 1500 lumens. Sensitivity: 10 lumens
Microphone Sensitivity Frequency Response: 50 - 5000 Hz
Trigger Outputs x3 open collector (x2 trigger, x1 focus). 50v DC max at 100milliamps
Mounting Sensor: 1/4-20 thread
Tripod Adjustment Range 3.2 - 6.7" (8.1 - 17 cm)
Power x4 AA batteries, high power type, non-rechargeable or AC to low voltage PSU 6-9V DC at 100 milliamps. UK22 AC power unit recommended.
Power Consumption 40 milliamps. When IR TX module is connected: 80 milliamps.
Operating Temperature 32 - 95§ F (0 - 35§ C)
Storage Temperature 14 - 122§ F ( -10 - 50§ C)
Shock Rating 10 Newtons
Waterproofing IP53
TriggerSmart TriggerSmart Kit
UK15 TriggerSmart Control Unit
Instruction Booklet
One Year Limited Warranty
Infra-Red Transmitter and Sound Sensor Unit
One Year Limited Warranty
Infra-Red Receiver and Light Intensity Sensor Unit
One Year Limited Warranty
9' Camera Trigger Cable
One Year Limited Warranty
15' Sensor Cable
One Year Limited Warranty
9' Sensor Cable
One Year Limited Warranty
UK70 Camera Trigger Cable
One Year Limited Warranty
2 x Mini Tripods
Baffle
Instruction Booklet
One Year Limited Warranty
Compare to other products in the Cables, Remotes and Triggers range.
Compare to other products in the Triggersmart range.