back
product no. 1006437
NZ

$

2,604.35 excl. GST
NZ

$

2,995.00
Multiblitz PLUSKIT-8 PROFILUX 800 Essential Kit
HOT new price - Save over $ 1000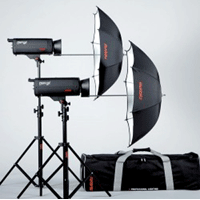 Multiblitz Profilux Plus 800 Essential set of 2 with 800 Ws Flash power: 800 Ws
Automatic Multi-Voltage 100 -260 V
Control range: 8 f-stops, 6-800 J/Ws.
Power increments: 1/10
Recycling time to full power: 2,9 sec.
Flash duration: 1/600-1/1600 sec.
Repetition accuracy +/- 0,5%
Battery operation with Propac 1 and Propac 2
Built-in 16 channel radio trigger
Built-in Pre-Flash Eliminator
Autodump
Stabilized colour temperature
Digital display
Equipped with the P-type bayonet
Set incl. tripods, umbrella reflectors, umbrellas and useful bag
Multiblitz Profilux Plus 800 Essential set of 2 with 800 Ws
2 steps into the future...
The inventors of portable flash light proudly usher in a new era. The new PROFILUX PLUS series offers a whole lot more than other available systems when it comes to functionality, reliability, and design. 60 years of experience in developing the most reliable compact flashes ever, led to a new class of compact flashes that is capable to meet all challenges of modern photography, be it in the studio or outdoors. We united state of the art technology with rugged reliability to create a system that facilitates your creativity and lets you concentrate on the most important matter: Creating great images!
The PROFILUX PLUS compact flashes are available in 200, 400 and 800 Ws performance classes. The 200 and 400 versions offer a 7 f-stop power range, the 800 Ws unit offers a 8 f-stop power range. All units are adjustable at increments of 1/10 f-stops providing all the control that is required for any demanding task. Flash durations as short as 1/3000 sec and quick recycling times as brief as 0,2 sec guarantee a smooth workflow.
The digitally controlled multi-voltage technology operates from 100 to 260 Volts, so wherever in the world you take your PROFILUX PLUS unit it automatically recognizes the voltage supplied from any power outlet. No switching, just ?plug nZ fire?. More importantly, the multi-voltage technology provides protection from voltage spikes and ensures a constant performance from flash to flash, even with mains caused voltage fluctuations.
Profilux plus 200 Profilux plus 400 Profilux plus 800
Flash power J (Ws) 200 400 800
Power supply, Automatic Multi-Voltage (V) 100 - 260
F-stop, 1m, ISO 100, Reflector FILNOS 45 64 91,4
GuideNo., 1m, ISO 100, Reflector FILNOS 45 68 118,7
Power range (Ws) 5 - 200 6 - 400 6 - 800
F-stops 7 8
Recycling time at max. outout, 230 V (sec.) 0,6 1,6 2,9
Recycling time at max. outout, 110 V (sec.) 0,9 2,9 5,5
Flash duration t 0,5 (sec.) 1/3000-1/1200 1/1600-1/600
Colour temperature (øK) 5500 +/- 150
Battery operation (with Propac 1&Propac 2) yes
Built-in 16 channel radio trigger yes
IR/Slave cell On-Off yes
Modeling light On(propX)-Off
modeling light 100% On-Off yes
"Test" Button yes
Built-in Pre-Flash Eliminator
("Red Eye/TTL,E-TTL) yes
Fan cooled yes
Auto-dumping yes
Colour temperature stabilized no yes
Flash tube, UV-absorbing (Code) PLUSROW PLUSREW
Modeling light (220-240 V mains operation) (W) 75 150 205
Type* (Code, Socket) PROHAL / B 15d LUHAL 2 / B 15d LUHAL 3 / B 15d
Modeling light control range (W) 2,3-75 2,3-150 1,6-205
Modeling light (100-130 V mains operation, battery operation) (W) 150
Type (Code, Socket) PACHAL / B 15d
Modeling light control range (W) 4,6-150
Synchronisation Sync lead, radio, salve cell, IR, hot-shoe&camera flash
Sync voltage (V) < 5
Connected Load (kVA) 0,92
Flash voltage stability (%) +/- 0,5
Radio interference suppression According to CE, DIN IEC 491, VDE 0882
Dimensions (mm) 120x282x149 120x325x150
Weight (Kg) 1,9 2,1 2,7
*220-240 V halogen tubes (75 W, 150 W, 205 W) can be used in all Profi lux Plus units.
Tolerances of specifications and components conforming to DIN and IEC standards. Specifications are subject to change without notice.
Detail description panel
Sophisticated operation and professional features.
Digital Display
IR/Photo Slave cell
Output Setting (radio trigger channel selection)
IR/Photo Slave Cell On-Off (activates Pre-Flash Eliminator)
Test button (activates radio trigger)
Beep/Lamp Ready indicator
Modeling Lamp 100% On-Off (modeling Light ?Auto-Off? indication)
Modeling Lamp On (prop x)-Off (modeling light ?Auto-Off? indication)
Power On-Off
Includes
2x Multiblitz PROFILUX plus 800 with synthetic protection cap (without light former)
each incl. power cable, sync cable, flash tube and halogen tube
2x Folding light stand (COMSTA-B)
2x umbrella reflector (COMSCH)
2x umbrella 80cm (VARES)
1x carrying case (PROTRA)
Compare to other products in the Studio Packs, Heads & Accessories range.
Compare to other products in the Multiblitz range.