Photo Blocks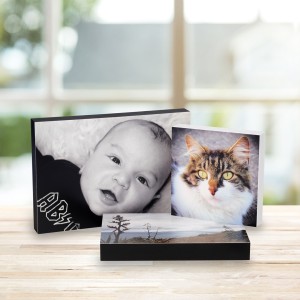 These are printed on our photographic paper and mounted on a ready-to-hang block. The block is 100% NZ made from 18mm MDF with a high quality satin finished edge, available in black or white.
Keyholes in the back are pre-cut to allow portrait or landscape hanging, (small blocks can stand upright on horizontal surface but large blocks may need to be wall-mounted) with a 25mm screw supplied.
A pH neutral adhesive ensures the print will last.
Finish is slightly smaller than standard photo sizes for perfect trimming.
Photo Block sizing and prices
4x4in
$16.95ea
5x7in
$22.90ea
6x8in
$24.90ea
8x10in
$32.95ea
6x4in
$17.95ea
6x6in
$22.90ea
8x8in
$27.90ea
8x12in
$36.95ea
sizes available in black or white edge
*Photo Blocks turn-around 1-3 business days.
You will receive an email confirmation when your order is ready to collect.
Calendars
A4 Photo Calendar, great for something a little bit more personalised.
Enjoy your images for the next 12 months, printed on Silk 170gsm paper and ready to hang!
Start creating yours today!
*Calendars turn-around up to 10 business days.
---
Collage Prints

Choose a selection of images to create your own Wall Art from your holidays, birthdays, favourite Instagram photos or special milestones.
Start creating yours today!
*Collage prints turn-around up to 2-5 business days
---
Cards

Flat single sided 5x7 print on photographic paper.
For all your Holiday specials.
Start creating yours today!
*Card prints turn-around up to 1-3 business days